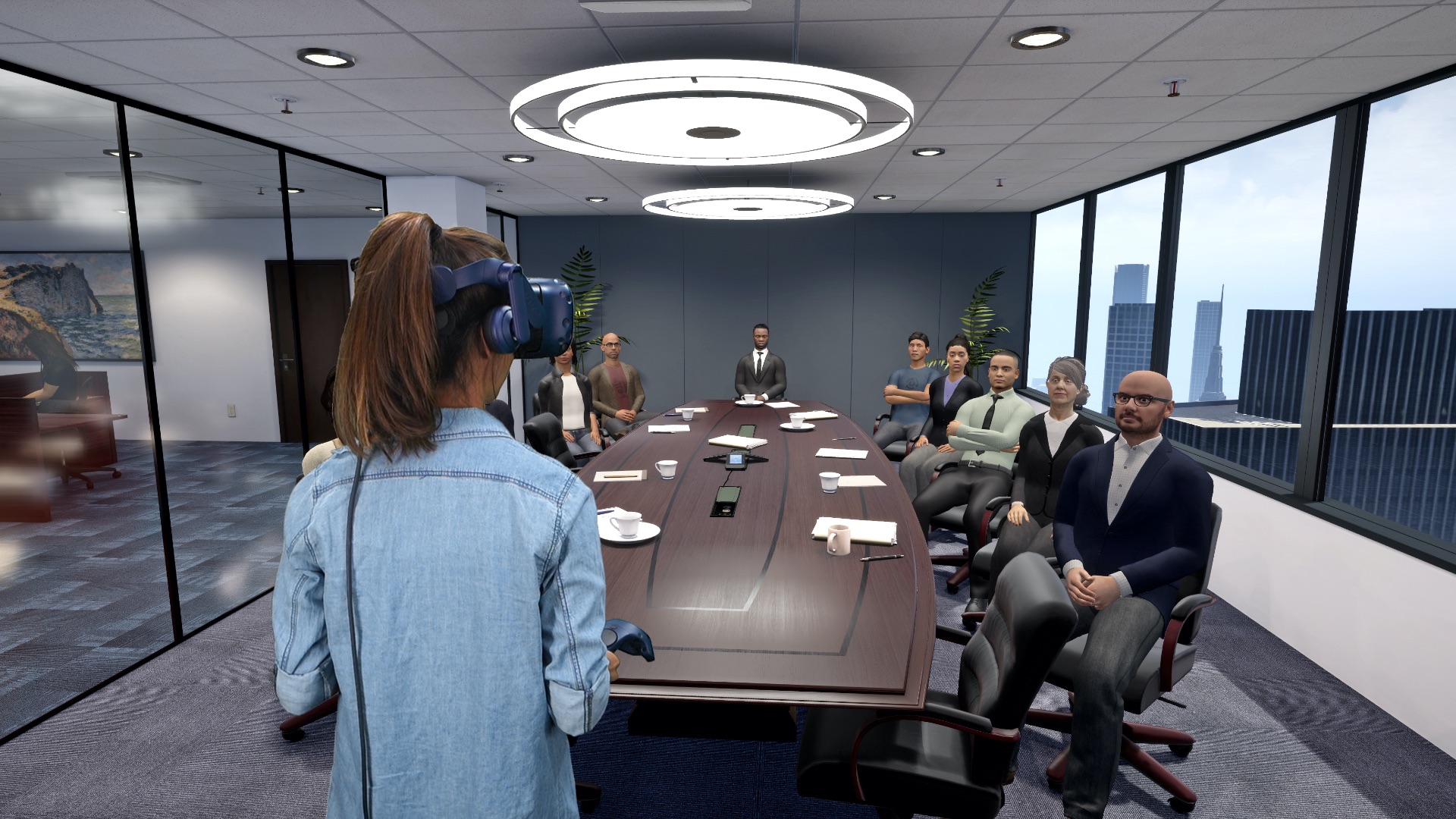 We all know those individuals, whether they be colleagues or friends, that are natural-born orators. It is hard not to feel at least a tiny bit jealous of their ability to deliver a presentation, keynote or speech seamlessly and confidently, all the while holding the audience enraptured. For many of us though, public speaking can be a daunting prospect. The dry mouth, butterflies in the stomach and the distinct preference for having your wisdom teeth being pulled out rather than stand in front of the audience delivering your edict, are all symptoms of the less-than-confident public speaker! With Glossophobia, or the fear of public speaking, suspected to around 70% of the population, effective tools that help with public speaking are highly sought after.
Technology has always had a hand in assisting with developing public speaking skills. From simply recording and playing back your speech through to the many phone apps out there that will dissect it to help grade your word clarity, pacing and tracking your "Umm"s and "Uhh"s. These are all useful fragments of information to refine your enunciation and delivery, but it's just not the same looking in the mirror while practicing, is it? Its very difficult to replicate looking out onto an audience that is looking back at you, with some of them fidgeting or just plain disinterested. It's that addition of the audience component that tends to be where the nervousness emanates from and the one component that definitely needs to be there during practice for you to be comfortable when the real day comes.
That's where virtual reality (VR) comes in. VR has an innate ability to immersive the speaker in a way that is impossible or impractical in real life. VR public speaking programs fit within a growing field of exposure-therapy VR programs making their way to the consumer market over recent years. These have seen a lot of interest from the enterprise sector, where the professional development of delivering a polished presentation is highly regarded. Relative to other exposure-therapy VR programs (such as those used to treat a variety of anxiety disorders), the public speaking VR programs typically have a greater level of focus on feedback and metrics to help improve the public speaking performance.
From a practice point of view, VR allows dynamic interaction with an audience that increases the value of VR as a medium for developing public speaking skills. Advancements in VR 3D modelling have allowed a more life-like and individualised representation of the members of the audience. With some VR programs, you are able to add a level of sophistication where you can tailor the audience to reproduce the expected scenario, whether it be a congratulation speech at a wedding, a boardroom presentation or a keynote conference delivery. The size, make-up and even temperament (interested, fidgeting or even hostile) can be specified in the more professional VR packages like Ovation, Virtual Speech and Virtual Orator. These all add to the level of immersion and practice improvement outcomes. The ability to preload presentations and even questions as well as record your performance (from different perspectives) are also useful additions.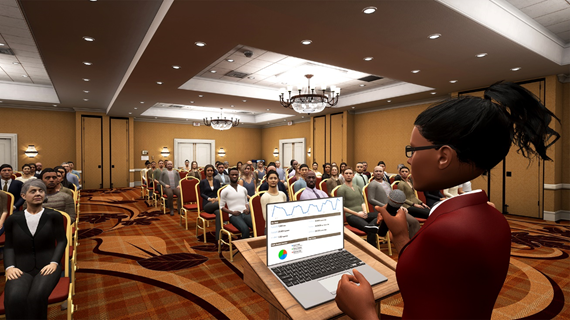 A significant value of VR-based public speaking programs over other mediums is the automated feedback that comes from using a VR system where the headset and the controllers are tracked, allowing accurate representation of what you do during the presentation. Gaze analysis (whether you focus more on one part of the room for example) and hand tracking (movement and location) all give crucial feedback that complement the content breakdown of the speech itself. Using VR headsets with eye tracking incorporated (such as the HTC Vive Pro Eye) provides an extra layer of details as to exactly where your focus is during a presentation.
There is no doubt that with persistence and preparation, it's entirely possible to beat Glossophobia. They key, as always, is trying to replicate similar conditions and practice, practice, practice! The immersion and tracking that is inherent in high-end VR allows for presentation specificity and relevant metrics and feedback to be provided. VR allows you to practice when, where and how often you need to. This enables you to challenge yourself, improve your presentation style and most importantly gain the confidence needed to nail that perfect presentation.