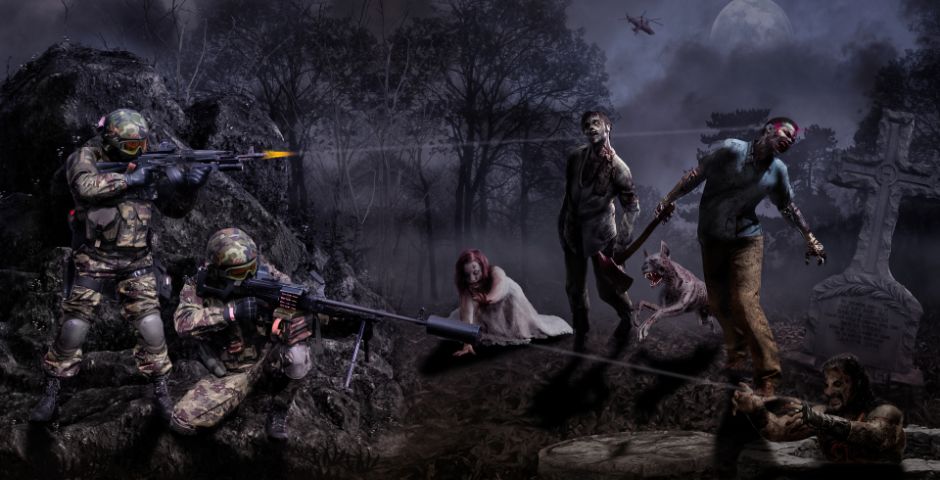 Move the team's needle – and its heartrate – in this group of team-based survival challenges! Attain the highest score or survival time in the following VR missions:
disrupting a zombie invasion as a ravaged city's last line of military defence in Propagation: Top Squad
team up to survive the zombie apocalypse in Arizona Sunshine

 

breaking down siloes of ghouls invading a 19th-century town in Private Property
hitting targets against hordes of Orcs with Elven Assassin's cooperative archery action.
We have the 8 VR stations within the centre so at any one time, there will be 8 players in VR. Depending on numbers in the group and booking period, we can customise this to swap groups in and out of the challenges. We can tailor this to the groups needs and there is a large selection of other challenges that would also work in this category. 
This package is ideal for up to 8 people but can easily be organised for larger groups of up to 16-20 players over a longer time period. 
Pricing:
Up to 8 players (1 hr) – $264
Large group booking (>8 players) (1.5 hrs) – $448
Large group booking (>8 players) (2 hrs) – $598
Large group booking (>8 players) (3 hrs) – $895
All Packages are fully customisable so please send us an email to allow us to tailor your events to your needs!